Differences Between Self-Ligating Braces and Regular Braces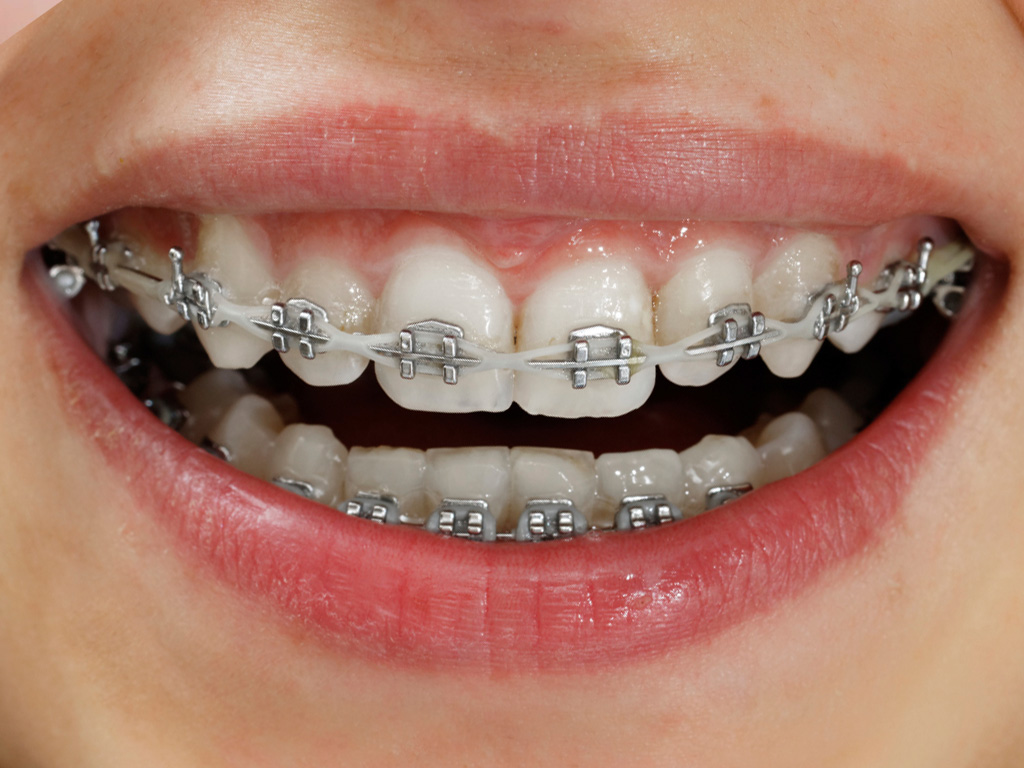 Historically, the only choice in wearing braces was the conventional, bulky type requiring tightening every few weeks and lots of appointments when bands would break. Today, while traditional appliances are still available there are other options for you to choose from.  Both traditional and self-ligation (Damon) braces achieve the same basic results, but the self-ligation style is typically easier to tolerate. The differences include:
Looks
The traditional style of braces use clunkier materials that are more obvious on the teeth. There is also the need for elastic bands. With self-ligation braces, elastic bands are eliminated and the braces are less obvious in their appearance.
How they work
While both styles of orthodontic treatment get the same results, the way those results are achieved is different. Traditional braces uses a process in which you return to the orthodontist every four to six weeks to have them tightened and band repositioned to pull on teeth to move them. Most people have sore mouth for several days to a week following each tightening appointment throughout the one to three year treatment. self-ligation braces work by using a tiny spring-loaded door to maintain pressure on the archwires. This process applies pressure to the system to gently adjust the teeth to the desired position. Because of the new technology used in self-ligation braces, the need for tightening is eliminated.
Tooth Extractions
Many people who get traditional braces must have several teeth removed in the process. This is to make enough room for crowded teeth. With self-ligation braces this is not typically necessary. While in some cases extractions are needed, it is much less often than with traditional braces. In addition, the need for expanders and headgear is significantly reduced. This is due to the self-ligation method using the body's natural ability to adapt during the process.
Time Involved
Because self-ligation braces don't require tightening, the appointments throughout treatment are spaced further apart than with conventional treatment. In many cases actual time during the appointments is also shorter.
Cleaning
Cleaning teeth around conventional braces is an involved process. The elastic bands provide quite the obstacle course in the mouth. Not properly cleaning around and under them for the duration of treatment creates the perfect environment for bacteria and cavities. In addition to getting in the way of teeth cleaning, the bands trap food, so a smile may be laced with spinach or whatever else was eaten for dinner.  With self-ligation braces those elastic bands are not there which makes keeping the teeth clean much easier.
Plaque
Plaque is difficult to remove. The ideal situation is to avoid it in the first place. The latex most elastic bands are made of is a commonly known plaque attractor. Because the bands are eliminated with self-ligation braces, plaque is reduced. Of course with either style of braces more frequent and diligent cleaning is necessary.
Length of Treatment
Treatment with conventional braces typically lasts six months longer than treatment with self ligation braces. In addition, approximately seven fewer check-up appointments are required with self ligation compared to conventional. The reduced treatment length and fewer appointments overall not only save valuable time but also can save money.
Final Look
With fewer extractions needed for self-ligation treatment, the end result is often a wider, more full smile that looks completely natural. Because the process retains as many teeth as possible it provides a more finished look.
Less Pain
In addition to the pain caused with conventional braces being tightened, other painful problems can arise. For example, because of the bulkiness of material used they often rub against the tongue as well as the inside of the cheeks. This can cause abrasions and inflammation. Self-ligation braces have a significantly risk of causing similar problems.
Though the two appliance styles have many differences, they also have several things in common including:
Adjustments: Both of them require regularly scheduled appointments to monitor progress and make adjustments to the braces as treatment progresses.
Eating Restrictions: In each case there are things that should not be eaten. Hard candy and sticky foods have the potential to damage the braces or archwires, therefore are not recommended until treatment has ended. In addition, foods high in sugar are not recommended with either style of braces because of the need for diligence in cleaning each day. The risk of cavities is not worth eating the sweets.
Visibility: While self-ligation braces are less visible than conventional braces, they are visible.